2019 and Shipping Contest Midway Results
on
December 28, 2018
at
12:00 am
Hello readers! I've got a few announcements.
I'll do the less fun announcement first. As you may remember, this upcoming October I'm planning on doing a print run for volume one of RDD. I had a pre-print survey going to help me decide on a few logistical things concerning the print run. You guys gave me some really great feedback and help me come to decisions on how many chapters should be included (1-5), some key areas to focus on for remastered pages, and what to do about 2019's posting schedule. The majority of you were in favor of me doing as many redrawn pages as possible and that you'd be ok with RDD going down to a single page update per week. I decided I'm going to go this route. I know some of you (and also myself in some regards) would prefer 2 pages a week, so I hope you'll be patient with the reduced pace this year. I'll try to include some extra pages here and there if I can throughout the year. Or maybe just some other bonus material. If you want more content, I encourage you to become a patron! I post process pics usually twice a week or so for $1+ patrons and the $3 tier gets you extra lore posts which I've expanded to include my spec doodles of future comic scenes. I have some other fun things for next year planned for that tier as well. And of course theirs the $6 smut tier 😉
Now the fun news! I thought, since the scheduling news was kind of a bummer, that I'd do something different and post midway results for the shipping contest. I've gotten a good number of votes, but some positions could use a few more to really solidify a winner. I thought this might be a good incentive to encourage some of you who may have been procrastination to send your's in :p Since I didn't want to influence potential votes too much I've only revealed clear cut winners who have at least a two point lead over the others.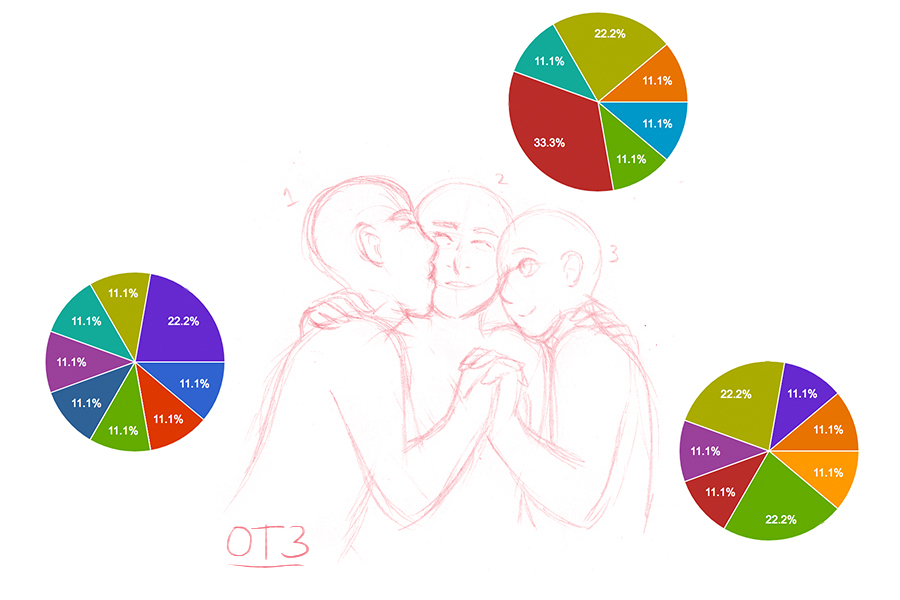 I think the OT3 has probably been the most divisive of the poses. It was a 9 way split for slot 1 up until last night!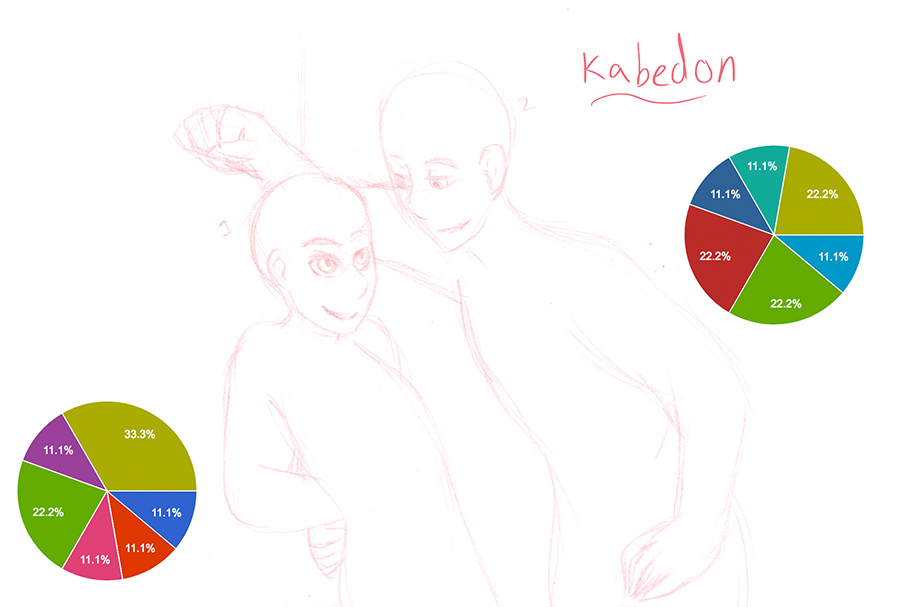 I think little Amélie with big Griswalt is the most amusing pairing here so far X') Dat small x tall factor.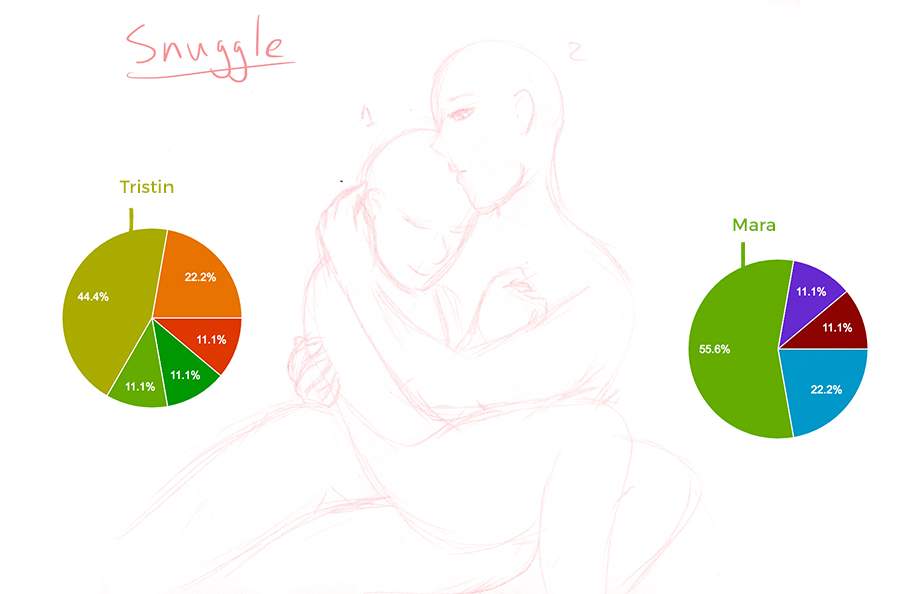 A lot of these votes have been super cute! I think maybe because this pose lends itself well to possible platonic pairings. Or at least I'm going to think of them as being platonic because otherwise the little spoon Mara, big spoon Archibald vote would make me sad.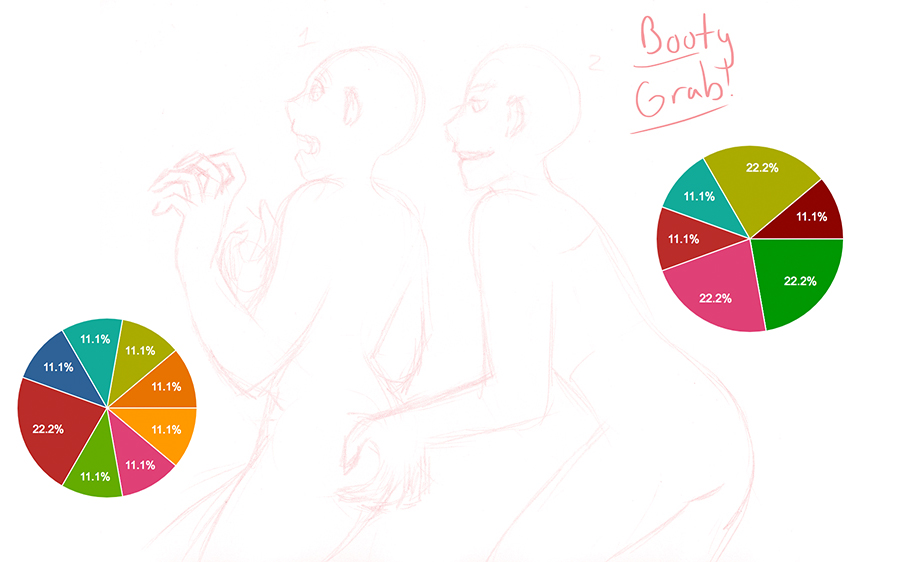 Y'all have been having fun with this one! I'm pretty sure all of them have made me laugh. A lot of them involving Calixte (who has been a surprise favorite in the votes this year!) or Haose. While on the subject of surprise favorites, there's been a lot of Tabitha votes! Also, to whoever voted for vampire mothman booty grabbing young!Mara, you're my mvp this year. Bless.

It's a bit of a non-sequitur but I should also say, way to be representing this year MarTin shippers! A lot of Mara x Tristin votes. I may have to do a separate tally at some point to determine which ships got the top three by volume of votes.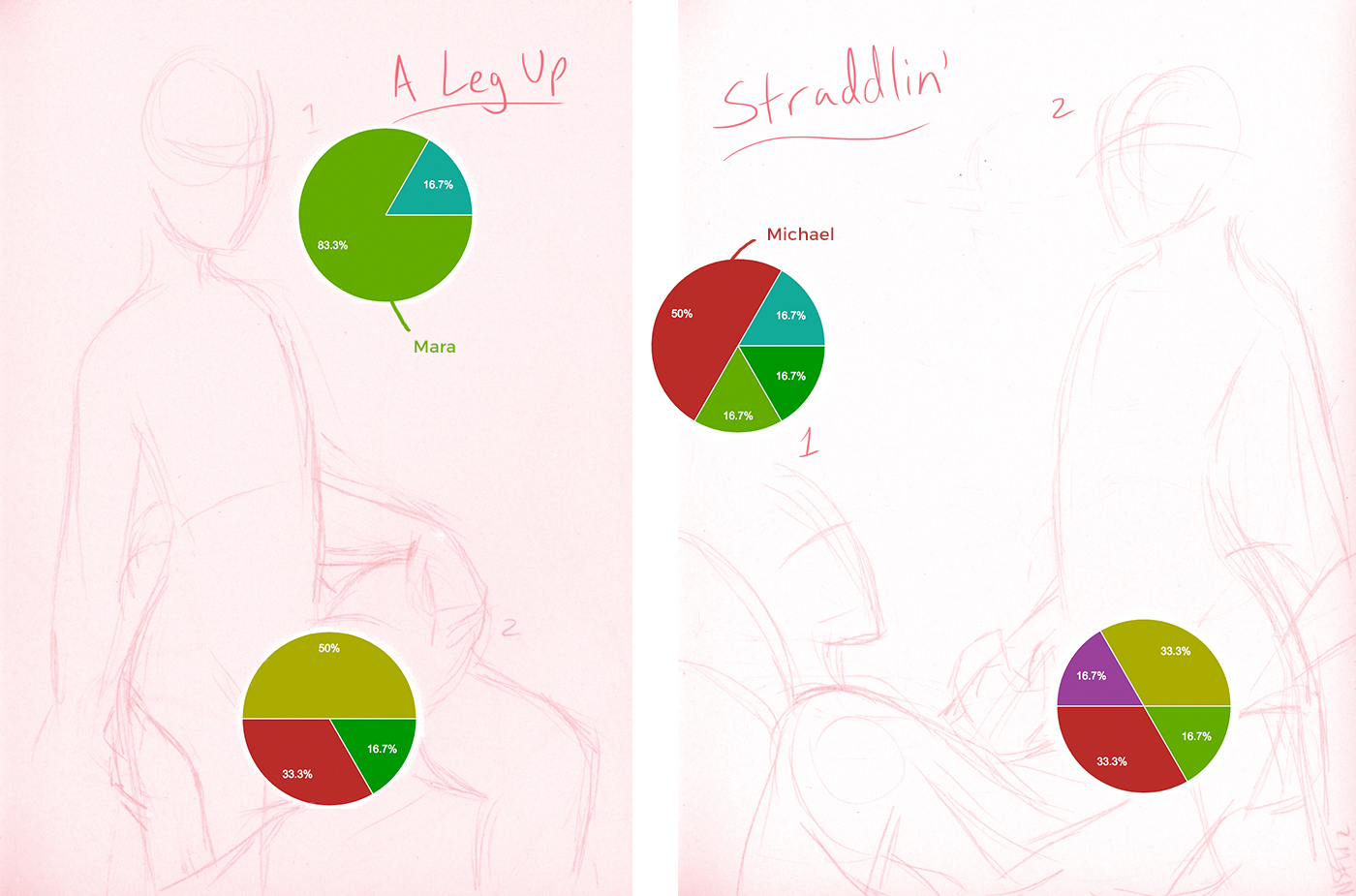 It's super funny to me that of all the poses, there's such a consensus on Leg Up Mara. I guess you all are really just feeling that Big Domme Energy for her X'D Just as a reminder, everyone is welcome and encouraged to vote on these nsfw poses, but they will only be posted to the $6 pateron tier (and maybe in the digital Kinktober zine once I finally have a minute to finish putting it together.)