February News!
on
February 8, 2018
at
12:00 am
Hey guys! I've got a couple of news things for you before the Shipping Contest results start posting next week and we get into Chapter 16 afterwards. I'm having a little bit of buffer issues at the moment. I haven't completely run out of pages, but the margin of time between production on my end and those pages posting has gotten a little too close together for my own comfort. This is sort of the product of a lot of things (I sort of overextended myself with bonus comics and Taylor has needed my computer a lot recently for reasons I'll talk about more below), but the biggest one is that I've been doing these pages digitally instead of traditionally. I've talked before about how I had made the switch because I ran out of watercolor paper for a while. I was doing ok keeping up a good pace digitally, but I kind of just hit a slump with it over the winter holidays. Things might have been better too if my day job wasn't already looking at a computer screen all day, but doing 7 hours of design work and then coming home and doing another 3-4 before bed on comic stuff every day for a month is just too much for me. I also just don't find the process of digitally painting the pages as fun or satisfying as doing it with ink wash. It had gotten to the point where I was considering hiring a colorist (and I still might in the future if I end up getting enough revenue from the comic to be able to fund it), but finances ended up becoming tight at I just couldn't do it.
So! Chapter 16 will be the last digital chapter for the foreseeable future, but I just need a little extra time to get it done. This means two things. The first is that, instead of posting all of the shipping results next week as I had planned, the 4 pages will post over the course of the next two weeks during the regular Tuesday Thursday posting slots. The second thing is that for the month of March I'll be dropping down to one page a week again. I feel really bad having to do this outside of the typical summer months break I normally take, but don't have a lot of choice at this point. The plan is to come back to the regular posting schedule in April. And I'll have some (easy for me to make) bonus content for you when I do. If you've noticed the current poll to the right of the comic that's asking about your favorite side character, the plan is to make a little illustration and playlist for (at least) one of those guys.
Besides the digital coloring slog, there are a couple of other reasons for the reduced posting that are slightly more fun. I've got a couple of anthology and zine pieces that I'll be working on this month in addition to everything else. The first is for the Chubby Anthology and the second is for the Webcomic Almanac. I'm very excited to be participating in these projects and I hope you all will pick up a copy when they're done. And speaking of zines, I was also in one that you can get right now for free! Object Head Zine 2018: Flora and Fungi is out now and it's full of all kinds of cuties, including my succulent girls.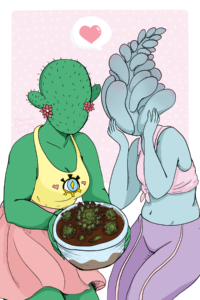 The other thing, as I mentioned above is something Taylor has been up to. Taylor left his job at the end of December and has used his time being unemployed to launch a Kickstarter to fund the production of his very good ttrpg, Spell. I'll be making a better post about it later in the month, because there is a lot of really gorgeous art that's gone into it, but for now, if you into table top gaming, hilarious magic, and Scrabble, I highly recommend you take a peek at his project.