5th Birthday and Book One Update – 83% Funded!
Before I get into the actual Kickstarter update I thought I'd share this inktober illustration I did last week.
Witch's Garden – Prompt 1 for @Drawtober's prompt list
Anemone (anticipation), Bellflower (unwavering love), Carnation (gratitude), Love Lies Bleeding (hopelessness), Witch-Hazel Leaves (magic)
I was hoping to have time to do a small drawing to celebrate RDD's birthday (which was Sunday), but I've been too busy! Who'd have thought! XD But at least all that busy-ness has been paying off since Book 1 is 83% to being fully funded!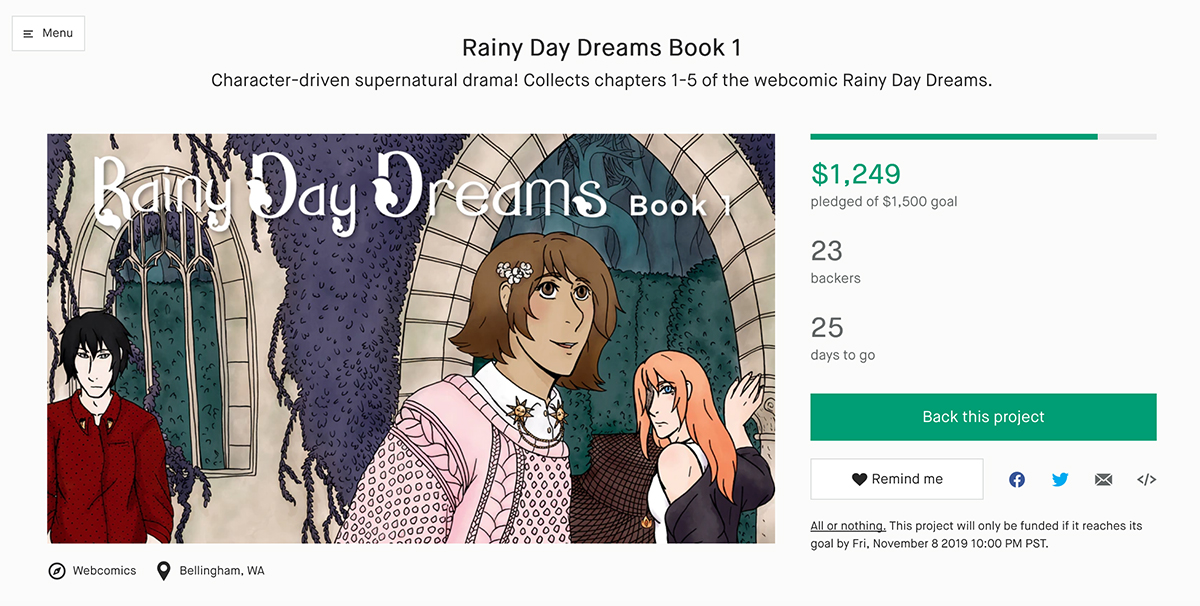 Just another $250 and I'll be printing these books! I feel pretty good about getting there by the end of this week, but I can't do it just on good feelings alone! Get on over and back if you haven't already. The social stretch goals are also doing fairly well. Tristin stickers have been unlocked! They'll added to all physically shipped tiers thanks to your retweets on twitter!

This tweet needs to get to 50 retweets to unlock dino Mara. The facebook post is also closing in on the 25 shares goal to unlock printed copies of the original chapter 1 to all physical orders. If you haven't shared these yet, please do! Even if you aren't backing, sharing spreads the word and also adds cool stuff for the people who are getting the book <3
Thank you all so much for your continued support. It's been a weird two weeks, but I feel like I'm sort of getting my feet back under me again. I'm at least not feeling as emotionally drained and hopeless as I was last week. I feel pretty good all things considered! Still dreaming of that spa trip once the Kickstarter is done though ♨️
My plan was to write a little 5 year birthday thing, but I don't currently have it in me to do anything big. I think I'll just say more or less what I've said the last four years. I really appreciate all of you who've taken the time to read my comic. Rainy Day Dreams is so important to me. I make it for myself first and foremost, but it means the world to me that anyone besides myself thinks it's any kind of good. Thank you for all your comments, poll votes, and shipping contest entries.
I'm really excited to see where year five takes us. Stop back Thursday for some guest art!